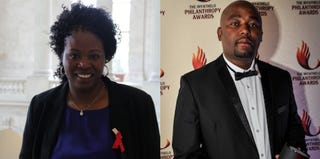 (The Root) — Growing up in Johannesburg's impoverished Alexandra township, Florence Ngobeni-Allen, who is now an HIV/AIDS educator and counselor, has long understood the concept of philanthropy. For her it was summed up by "ubuntu," an elegant Xhosa word that translates roughly to "I am because you are."
That ideal is personified in the Nomthunzi Project, a grassroots initiative that Ngobeni-Allen runs that provides psychological support for women and teens with HIV from within the world's third-largest hospital, Chris Hani Baragwanath Hospital in Soweto, South Africa. Ngobeni-Allen, 39, learned that she was
HIV-positive in September 1996
. Her husband suddenly got sick, withered away and died within months.
Then her 5-month-old daughter, Nomthunzi, became ill, and Ngobeni-Allen took her to the doctor. There, she discovered that they were both HIV-positive and that she had passed the disease to her daughter. Nomthunzi died weeks later. The initiative is named after that child, who today would be in her teens.
 " 'Ubuntu' defines what has kept the Nomthunzi Project going so far," Ngobeni-Allen told The Root.
What makes this generation of African philanthropists unique is that many have been shaped by their own personal battles. Their efforts are often grassroots in nature and draw heavily from local support. Unfortunately, Ngobeni-Allen says, that's not enough. She still has to work as a consultant to pay her family's bills. In doing so, she has toured the world giving powerful speeches about her experience.
But so far the Nomthunzi Project has been unable to secure much in the way of funding from major sources such as the U.S.-run President's Emergency Plan for AIDS Relief. The project lacks even basic supplies such as computers or its own website. Ngobeni-Allen said that following the ubuntu principle is "how we are surviving. But for you to make a huge impact, you need to have more funds …The PEPFAR money is going to big, established programs; the smaller programs are not being recognized as much. "
 Her initiative addresses a little-mentioned aspect of HIV: its
psychological toll
. Although South Africa has the world's largest number of HIV/AIDS patients — there are
almost 5.4 million South Africans living with HIV
(pdf), out of a population of nearly 52 million people — Ngobeni-Allen said that the major donors see the disease primarily as a physical ailment.
"I could run any program on HIV and AIDS," she said. "But I've realized that mental health is not strengthened to a point where every person knows how to sustain themselves psychologically. HIV is thought of as a physical disease, but it's also a mental disease. It's very hard to think about the future with HIV."
 Amon Maseko is another South African philanthropist who developed his charitable project as a result of his own experiences. Maseko, 31, was recently honored with an
Inyathelo Philanthropy Award
for his work at the Upbeat Youth Centre, a project that provides job training for young people.
Maseko, who runs a steel-exporting business in Johannesburg, said that he started the initiative in 2010 after he realized that many of his employees lacked basic office skills, such as familiarity with computers.
South Africa also has sky-high unemployment rates — nearly 25 percent — and skills are in short supply. Maseko gathered 180,000 rand — then worth about $25,000 — and started the center in his home province of Mpumalanga. Since its inception, the center has trained about 200 young people, 80 of whom have since landed jobs.
 He said that he felt it was his duty to continue his family's track record of giving back. "My grandparents [and] my dad were involved in the struggle in apartheid times," he told The Root. "They chose to fight for the struggle when they could have just stayed home. As much as the struggle is over, we have another struggle."
Maseko hopes to expand the project but said he expects the process to be slow. "[If you're] a black guy, the bank won't give you anything," he said, referring to the challenges that he has faced getting loans. "You have to work with what you have."
He said that locals should do more to help their communities in an organized way, because community members often know what their neighbors need better than international donors do. "If you're a doctor trying to diagnose something, you hear from the patient first," Maseko said. "They say, 'Here's the problem.' Then you create solutions."